How to Start a Book Blog in 2023
This post may contain affiliate links. If you make a purchase through these links, at no additional cost to you, I will earn a small commission.
Do you love reading and discussing books? Do you want to start a book blog that focuses on books, but don't know how?
Well, you've come to the right place! In this post, I will walk you through the simple steps to start a book blog. I'll provide tips on how choosing a domain name and hosting service, creating content, and building an audience. Let's get started!
If you're an avid reader a book blog represents a great way to connect with other like-minded people, but it's also an excellent platform for sharing your thoughts and opinions on the latest titles with the fantastic book community out there.
Even if, at first impression, thinking about blogging platforms, blog traffic, social media presence, search engine optimization, and web hosting providers might sound overwhelming, no worry, all new bloggers have been there; that's why we love to share blogging tips and help start your own book blog and enjoy the journey in the book blogging world.
So relax, and just follow a few easy steps to start your own blog from scratch.
Happy Reading!
What is a Book Blog?
A book blog is a platform where you can share your thoughts, reviews, and recommendations on books. It's similar to writing book reviews for a newspaper or magazine, but with a few key differences.
First, book blogs are usually personal websites or blogs run by individual readers rather than large publications. Second, most book bloggers write for an online audience of other book lovers rather than a general readership.
This means that book blogs can be a great way to connect with other avid readers worldwide. And finally, while many book reviewers focus on literary criticism, most book bloggers simply want to share their love of reading with others. For this reason, most book blogs have a more informal tone than traditional reviews.
Why Start Book Blogging?
There are many reasons why you might want to start a book blog. Maybe you're looking for a creative outlet to share your passion for reading, or perhaps you want to connect with fellow book lovers.
Whatever your reasons are, starting a book blog can be a fun and rewarding experience. Not only will you get to share your love of books with others, but you'll also have the opportunity to build an online community, learn new writing and blogging skills, and even make some money along the way.
So what are you waiting for? If you're ready to start a book blog, just follow this
10 Easy Step-by-Step Guide
Step One: Find your niche
One of the first things you need to do when starting a book blog is to find your niche. What kind of books do you want to focus on?
Do you want to write reviews for all the latest releases? Or perhaps you're more interested in sharing classic titles with your readers. Once you've decided on your niche, it will be easier to develop content ideas and build an audience around your blog.
In Comet Readings, for example, I love to share book reviews, author interviews, and book lists which include book club recommendations, upcoming book releases; and for a couple of years, I also started reading challenges to inspire readers to find new favorite books.
Different kinds of book bloggers:
There are all sorts of book bloggers out there, each with their unique focus. Here are a few examples:
– Book Review blog:
These blogs focus on sharing the latest book news and reviews with their readers. If you're starting a review blog, you'll need to be up-to-date with the latest releases and able to write concise, well-thought-out reviews.
Advance reader copies (ARCs) are essential for review blogs as they allow you to read and review books before they're released to the general public.
– Bookish Lifestyle blog:
These blogs focus on all things bookish, from reading recommendations to literary-inspired fashion and everything in between.
– Book Discussion blog:
These blogs focus on starting discussions about books with their readers. If you're starting a discussion blog, you'll need to be able to facilitate meaningful conversations and encourage your readers to share their thoughts and opinions.
– Genre-specific book blog:
There are book blogs for just about every genre, from mysteries and thrillers to historical fiction and romance books. If you're starting a genre-specific blog, you'll need to be well-versed in the genre you're writing about and be able to share interesting insights with your readers.
Step Two: Choose a Book Blog Name
Choose a catchy blog name and domain: Just like any other website or blog, your book blog needs a name that's both memorable and easy to find.
Think about what kind of books you'll be featuring on your blog, and try to come up with a name that reflects your niche. Once you've settled on a name, check if the corresponding domain is available.
If you're struggling to find your blog name, try brainstorming some ideas with friends or family. Once you've settled on a name, you can register your domain and set up your blog.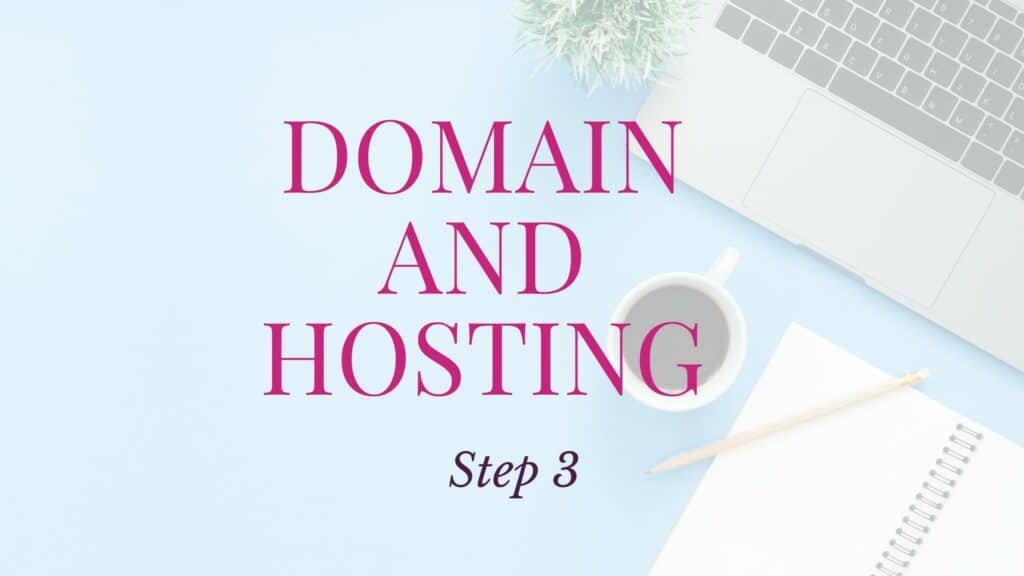 Step Three: Buy a Domain and Hosting Service
One of the most important steps to starting a book blog is to buy a domain and hosting service. This will be your blog's home on the internet, so it's essential to choose a name that's easy to remember and represents the type of content you'll be sharing.
There are many different domain and hosting providers out there (some hosting providers also offer free domains with their service). Once you've found a provider you're happy with, you can register your domain and set up your blog.
Here are a few domain providers:
– GoDaddy:
One of the most popular domain providers. GoDaddy offers a wide range of domain names at various price points.
– Namecheap:
Another popular domain provider that offers a wide range of domains at affordable prices.
– Hover:
A domain provider that offers a clean and simple interface for registering domains.
– Bluehost:
A web hosting company that also offers free domains with their hosting plans.
As for hosting, this is the service that actually stores your website's files and makes sure they're accessible to visitors 24/ seven.
Here are a few hosting providers:
Another popular hosting provider, Siteground offers plans that are specifically tailored for WordPress users (the domain is also free with their service).
– Kinsta:
A premium managed WordPress hosting provider that offers high-quality hosting plans.
– Bluehost:
One of the most popular hosting providers, Bluehost offers a wide range of plans to suit any budget.
– WP Engine:
A premium hosting provider that specializes in WordPress hosting.
Step Four: Install WordPress
Once you've chosen a domain name and hosting service, you'll need to install WordPress on your server. WordPress is a free and open-source content management system that makes creating a beautiful website or blog easy.
If you're using Siteground, they have a handy tool called the WordPress Starter that will walk you through the installation process.
Step Five: Choose a Blog Theme
Once you've selected a platform, take some time to customize the book blog design. Choose a blog theme representing the type of content you'll be sharing, and add personal touches like photos and graphics.
A theme is basically a pre-designed template that determines the look and feel of your book blog.
There are many different WordPress themes available (both free and premium), so it's important to take some time to browse through the options and find one that's a good fit for your site.
One of the most popular themes in the WordPress community is the Genesis Framework, and it's perfect for book bloggers.
Here are some tips on how to choose your blog theme:
– If you want to monetize your book blog, choose a theme that includes ad spaces.
– Ensure the theme is responsive, meaning it will look good on all devices (desktops, laptops, tablets, and smartphones).
– Choose a theme that is easy to customize and comes with helpful documentation.
– Avoid themes that are overloaded with features, as this can make your site slow and difficult to use.
5 Fast WordPress Themes to Use in 2022 for your book blog:
– GeneratePress:
A lightweight and fast theme perfect for book bloggers.
Another lightweight and fast, free WordPress theme with plenty of customization options (a paid version is also available).
A fast theme designed specifically for the Elementor page builder plugin.
– StudioPress:
A popular theme that's perfect for those looking to monetize their book blog.
– OceanWP:
A beautiful and versatile theme that can be used for any type of website or blog.
– Page Builder Framework:
A fast and lightweight theme that includes support for the popular Beaver Builder plugin.
Step Six: Install Plugins
Next, you'll need to install some plugins. Plugins are like little apps for your WordPress site that add extra features and functionality. For example, some plugins can help you increase your website's speed, add social sharing buttons to your posts, or even backup your site automatically.
There are literally thousands of plugins available for WordPress, but here are a few essential plugins I recommend for book bloggers:
This plugin is a great all-in-one SEO solution for WordPress. It includes features like keyword optimization, Google Analytics integration, and automatic sitemaps.
– Yoast SEO:
This plugin is another great option for optimizing your book blog for search engines. It includes keyword optimization, XML sitemaps, and social media integration.
This plugin is my favorite. It's a great way to easily create custom designs for your book blog without learning to code and definitely made my job a lot easier. I absolutely recommend it (both free and paid versions are available).
– Wp Rocket:
This plugin is a must-have for any WordPress site. It helps to speed up your website by caching your pages and images, and it also includes features like lazy loading and minification.
Step Seven: Start Writing Book Blog Posts
Now it's time to start writing posts! Remember, the key to a successful book blog is to provide valuable content that your readers will enjoy. I know that are so many book blogs out there, but they do not have your voice.
A blog can be a great way to share your thoughts and ideas with the world. However, in order to succeed as a blogger, it's important to do more than just write about what you love. Content research is essential in order to ensure that your blog posts are interesting and engaging. Without research, it's easy to end up writing about topics that nobody cares about.
Furthermore, research can help you to identify gaps in the market and write about topics that nobody else is writing about. If you're serious about becoming a successful blogger, make sure to invest some time in content research. It will pay off in the long run.
To help get you started, here are a few ideas for posts you can write:
– Book reviews: Share your thoughts on the latest books you've read.
– Book lists: Create lists of books based on topics or genres (e.g., beach reads, book club books, indie books, new releases, book to movie adaptations, etc.).
– Blog features: Reach out to your favorite authors and see if they're interested to be interviewed for your blog.
Step Eight: Build an Audience
Once you have a few blog posts under your belt, it's time to promote your book blog. The best way to do this is by connecting with other fellow book bloggers and readers on social media. Twitter, Facebook, and Instagram are great places to interact with potential readers and build an audience for your blog.
You can also join several book lovers communities, such as Goodreads and LibraryThing. These communities are great places to interact with other book bloggers and find potential readers for your blog.
Also, guest posts on other book blogs or collaborate on blog projects, like blog tours and readathons. These are all great ways to get your name and your blog out there in the book blogging community and ensure that your blog is seen by people interested in reading it.
Step Nine: Start a Newsletter
If you're a book blogger, one of the best ways to connect with your readers is to start an email list from the very beginning. By doing this, you'll be able to keep your readers up-to-date on the latest bookish news, including reviews, giveaways, and exclusive content. Plus, it's a great way to build relationships with your readers. After all, book blogging is all about building a community!
So if you're not already using an email list to connect with your readers, now is the perfect time to start.
Here are a few great (and affordable) options for starting an email list:
Mailerlite:
I use this email service for my book blog, and I absolutely love it. It's super user-friendly, and there are many great features, like automation and landing pages. Plus, it's free for up to 1000 subscribers.
MailChimp:
This is another great option for starting an email list. It offers many of the same features as Mailerlite, and it's free for up to 2000 subscribers.
Flodesk:
This is a newer email service that has quickly become one of my favorites. It's super user-friendly and offers a lot of great features. Flodesk costs $39/month for unlimited subscribers.
ConvertKit:
This email service offers a simple and intuitive interface that makes it easy to add subscribers, create email campaigns, and track your results. For new creators, it's free for 300 subscribers.
Once you've chosen an email service provider, it's time to start building your list! You can do this by adding an opt-in form to your blog or by providing a link to your sign-up form in your blog posts. You can also promote your sign-up form on social media or in your email signature.
Finally, don't forget to offer something of value to your readers in exchange for their email addresses. This could be a free eBook, a discount code for your online store, or access to exclusive content. Whatever you choose, make sure it's something that your target audience will find valuable.
Step Ten: Keep Going!
The most important step of all: keep going! Book blogging is a lot of work, but it's also a lot of fun. So don't get discouraged if things aren't perfect from the start. Just keep writing quality content and promoting your blog, and you'll be sure to find success.
By following these simple steps, you'll be well on your way to starting a successful book blog! Just remember to be patient, consistent, and offer value to your readers, and you'll build a loyal following in no time.
Just remember to have fun and enjoy the process. After all, that's what book blogging is all about.
Do you have any tips for starting a book blog? Share them in the comments below!