This post may contain affiliate links. If you make a purchase through these links, at no additional cost to you, I will earn a small commission.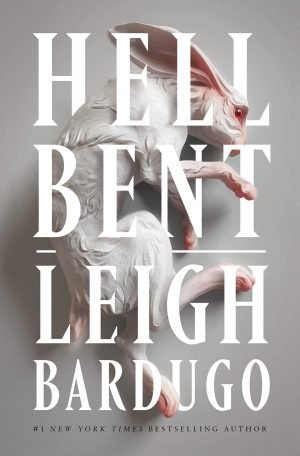 Publication Date: January 10, 2023
Publisher: Flatiron Books
Hardcover: 496 Pages
Publisher Description
Find a gateway to the underworld. Steal a soul out of hell. A simple plan, except people who make this particular journey rarely come back. But Galaxy "Alex" Stern is determined to break Darlington out of purgatory―even if it costs her a future at Lethe and at Yale.

Forbidden from attempting a rescue, Alex and Dawes can't call on the Ninth House for help, so they assemble a team of dubious allies to save the gentleman of Lethe. Together, they will have to navigate a maze of arcane texts and bizarre artifacts to uncover the societies' most closely guarded secrets, and break every rule doing it. But when faculty members begin to die off, Alex knows these aren't just accidents. Something deadly is at work in New Haven, and if she is going to survive, she'll have to reckon with the monsters of her past and a darkness built into the university's very walls.

Thick with history and packed with Bardugo's signature twists, Hell Bent brings to life an intricate world full of magic, violence, and all too real monsters.
About the author
Leigh Bardugo is the #1 New York Times bestselling author of Ninth House and the creator of the Grishaverse (now a Netflix original series) which spans the Shadow and Bone trilogy, the Six of Crows duology, the King of Scars duology—and much more.
Read more about Leigh ON HER WEBSITE
Praise
"[T]he return of protagonist Alex Stern and her mystical version of the Ivy League is very welcome… Watching this damaged loner bring together a squad of ride-and-die friends is endlessly fun, and Bardugo finds new depths to most of her supporting cast." ―The Washington Post
Read more


"Gut-wrenching and deeply human, this book will tug at your heartstrings even as it chills you to the bone…. Standing head and shoulders above the already impressive Ninth House, Hell Bent is one of the best fantasy novels of the year.." ―BookPage (starred reviewed)

"Thrilling … fascinating supporting players … The taut plot, often grisly magic, lavish scene-setting, and wry humor combine to make this just as un-put-downable as the first installment. Readers will be wowed." –Publishers Weekly (starred review)

"Bardugo doesn't flinch from the dark sides of magic and human nature….This portrait of a survivor's dogged determination to accomplish her goal will appeal to readers of dark academia, urban fantasy, and horror." ―Booklist (starred review)

"Vivid, intelligent, and funny at just the right moments, but best of all are the complex characters." ―Kirkus Reviews (starred review)