This post may contain affiliate links. If you make a purchase through these links, at no additional cost to you, I will earn a small commission.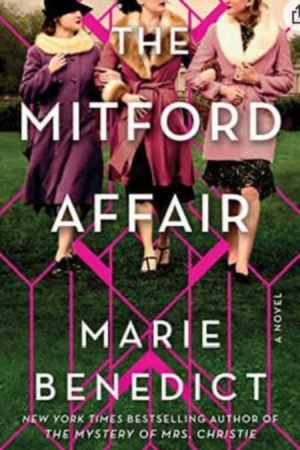 Publication date: January 17, 2022
Publisher: Sourcebooks Landmark
Hardcover: 377 Pages
Publisher Description
From New York Times bestselling author Marie Benedict comes an explosive novel of history's most notorious sisters, one of whom will have to choose: her country or her family?
Between the World Wars, the six Mitford sisters—each more beautiful, brilliant, and eccentric than the next—dominate the English political, literary, and social scenes. Though they've weathered scandals before, the family falls into disarray when Diana divorces her wealthy husband to marry a fascist leader and Unity follows her sister's lead all the way to Munich, inciting rumors that she's become Hitler's mistress.
As the Nazis rise in power, novelist Nancy Mitford grows suspicious of her sisters' constant visits to Germany and the high-ranking fascist company they keep. When she overhears alarming conversations and uncovers disquieting documents, Nancy must make excruciating choices as Great Britain goes to war with Germany.
Probing the torrid political climate in the lead-up to World War II and the ways that seemingly sensible people can be sucked into radical action, The Mitford Affair follows Nancy's valiant efforts to stop the Nazis from taking over Great Britain, and the complicated choices she must make between the personal and the political.
About the author
Marie Benedict is the author of The Other Einstein, Carnegie's Maid, The Only Woman in the Room, and Lady Clementine, views herself as an archaeologist of sorts, telling the untold stories of women. She lives in Pittsburgh with her family.
Read more about Marie ON HER WEBSITE
Praise

"An in-depth exploration of the complications and bonds of sisterhood. Benedict perfectly captures the anxiety and uncertainty of England's interwar years and serves as a timely reminder of the dangers of enigmatic autocrats. Fast-paced and eye-opening." ― Fiona Davis, New York Times bestselling author of The Magnolia Palace"
Read more

"Timely and suspenseful, The Mitford Affair is an immersive, spellbinding novel that illuminates the terrible allure fascism holds for some, as well as the courage and moral clarity that enable others to resist even when beloved friends and family succumb." ― Jennifer Chiaverini, New York Times bestselling author of Resistance Women

"In her latest book The Mitford Affair, Benedict plunges readers into a world of glamorous, charismatic young British debutantes and then turns that shiny world on its head. I was blown away–learning this true story of the Mitford sisters and the roles they played for and against the Nazis was nothing short of astonishing. Benedict delivers with all that readers have come to love and expect from her: nuance, elan, and the most delicious storytelling." ― Allison Pataki, New York Times bestselling author of The Magnificent Lives of Marjorie Post

"Benedict unflinchingly peels away the giddy facade, revealing the tragedy beneath the one-liners in this close look at the Mitfords' darkest hour: the family's embrace of fascism and flirtation with treason in the face of World War II." ― Lauren Willig, New York Times bestselling author
ALSO IN
HISTORICAL FICTION