The Three Lives of Alix St. Pierre
This post may contain affiliate links. If you make a purchase through these links, at no additional cost to you, I will earn a small commission.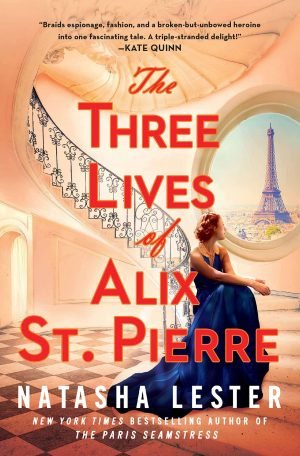 Publication date: January 10, 2022
Publisher: Forever
Hardcover: 423 Pages
Publisher Description
A New York Times bestselling author delivers a lavish, unforgettable story of an orphan turned WWII spy turned fashion icon in Paris.

Alix St. Pierre. An unforgettable name for an unforgettable woman. She grew up surrounded by Hollywood glamor, but, as an orphan, never truly felt part of that world. In 1943, with WWII raging and men headed overseas to fight, she lands a publicity job to recruit women into the workforce. Her skills—persuasion, daring, quick-witted under pressure—catch the attention of the U.S. government and she finds herself with an even bigger assignment: sent to Switzerland as a spy. Soon Alix is on the precipice of something big, very big. But how far can she trust her German informant…?

After an Allied victory that didn't come nearly soon enough, Alix moves to Paris, ready to immerse herself in a new position as director of publicity for the yet-to-be-launched House of Dior. In the glamorous halls of the French fashion house, she can nearly forget everything she lost and the dangerous secret she carries. But when a figure from the war reappears and threatens to destroy her future, Alix realizes that only she can right the wrongs of the past …and finally find justice.
About the author
Natasha Lester worked as a marketing executive for L'Oreal before penning the New York Times and internationally bestselling novel The Paris Orphan. She is also the author of the USA Today bestseller The Paris Seamstress.
Read more about Natasha ON HER WEBSITE
Praise

"The Three Lives of Alix St. Pierre braids espionage, fashion, and a broken-but-unbowed heroine together into one fascinating tale. Natasha Lester weaves a triple-stranded delight!"―Kate Quinn, New York Times bestselling author of The Diamond Eye
Read more

"Natasha Lester has done it again with this sumptuously written page-turner! Alix St. Pierre is everything that makes an admirable heroine – independent, plucky, and clever as the story spans from the fashionable world of Dior in Paris to the fascinating intrigue of international espionage in neutral Switzerland. The Three Lives of Alix St. Pierre is a captivating novel that readers will absolutely adore." ―Madeline Martin, New York Times bestselling author of The Last Bookshop in London

"As exquisite as the gowns she brings to life for the reader, Natasha Lester's The Three Lives of Alix St. Pierre is a must-read for historical fiction lovers. Lester effortlessly interweaves the fascinating and sumptuous world of Parisian post-war fashion against the intrigue and danger of espionage during World War II, creating an unforgettable story helmed by a remarkable, courageous heroine. A stunning, page-turning read!"―Chanel Cleeton, New York Times bestselling author

"A remarkable novel… [that] is both daring and compelling. Lester weaves a spellbinding portrait of a woman who knows how to survive—and how to win. … The Three Lives of Alix St. Pierre[is]a wonderfully human and utterly gripping work of historical fiction."―Bookpage
ALSO IN
HISTORICAL FICTION