This post may contain affiliate links. If you make a purchase through these links, at no additional cost to you, I will earn a small commission.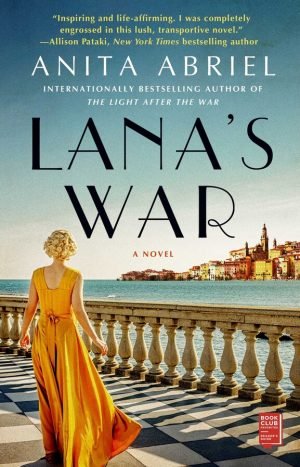 Publication date: January 12, 2021
Publisher: Atria Books
Paperback: 336 Pages
Publisher Description
From the author of the "fast-paced, heartbreaking, and hopeful" (Kristin Harmel, author of The Room on Rue Amélie) The Light After the War, a riveting and heartfelt story of a young woman recruited to be a spy for the resistance on the French Riviera during World War II.

Paris 1943: Lana Antanova is on her way to see her husband with the thrilling news that she is pregnant. But when she arrives at the convent where he teaches music, she's horrified to see Gestapo officers execute him for hiding a Jewish girl in the piano.

A few months later, grieving both her husband and her lost pregnancy, Lana is shocked when she's approached to join the resistance on the French Riviera. As the daughter of a Russian countess, Lana has the perfect background to infiltrate the émigré community of Russian aristocrats who socialize with German officers, including the man who killed her husband.

Lana's cover story makes her the mistress of Guy Pascal, a wealthy Swiss industrialist and fellow resistance member, in whose villa in Cap Ferrat she lives. Together, they gather information on upcoming raids and help members of the Jewish community escape. Consumed by her work, she doesn't expect to become attached to a young Jewish girl or wonder about the secrets held by the man whose house she shares. And as the Nazis' deadly efforts intensify, her intention to protect those around her may put them all at risk instead.
About the author
Anita Abriel was born in Sydney, Australia. She received a BA in English literature with a minor in creative writing from Bard College. She is the internationally bestselling author of The Light After the War, Lana's War, and A Girl During the War. She lives in California with her family.
Praise
"Filled with danger and romance, Lana's War is the story of a courageous woman waging her own battle against the Nazis while defending her loyalty to a Jewish girl she meets in Nice. Anita Abriel's tender, yet fast paced novel deftly juxtaposes the beauty and opulence of the French Rivera against the atrocities of WWII. Cinematic in scope, this novel will keep readers turning pages with twists and turns that lead to an unforgettable ending."—Renee Rosen, bestselling author of Park Avenue Summer
Read more

"In Lana's War, Anita Abriel puts the reader on the French Riviera during World War II, in a time and a place where the barbed wire fences and marching boots of the Nazis are terrifying, even as the sweep of Mediterranean views and bursts of bright bougainvillea are intoxicating. Lana is a heroine to root for, and her story of loss and love is inspiring and life-affirming. I was completely engrossed in this lush, transportive novel."—Allison Pataki, New York Times bestselling author of The Queen's Fortune

"Suspenseful. . . . Abriel's fast-paced revenge story will please fans of WWII fiction."—Publishers Weekly

"A story of one woman's courage and resilience in a time of great darkness, Lana's War glitters as brightly as a Riviera gem. Perfect for fans of wartime historical fiction!"—Stephanie Marie Thornton, USA Today bestselling author of And They Called It Camelot

"What you would do to help others during a time of war? Would you risk all to save vulnerables who can't save themselves? Lana's answer in Anita Abriel's Lana's War takes the reader on a fascinating journey into the glamorous world of the French Riviera, a milieu stressed by war, fear and longing. Romantic and exciting, Lana's War will hook you from the start."—Jennie Fields, author of Atomic Love

"Romance and danger blend with extravagant dinner parties in this historical drama." — Booklist
ALSO IN
HISTORICAL FICTION