Welcome to the Blog Tour for On The Market by Audrey Wick, hosted by Comet Readings Book Tours!
---
ABOUT THE BOOK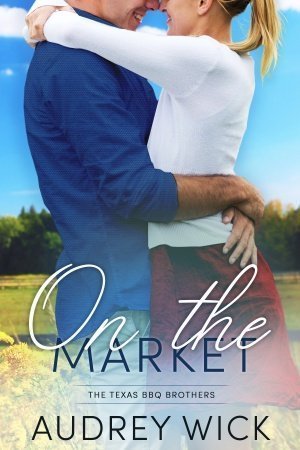 Series: The Texas BBQ Brothers (Book 1)
Publication date: June 14, 2019
Paperback: 244 pages
Publisher: Tule Publishing Group
---
Will she be the secret ingredient to his happiness?
Valerie Perry has just inherited her grandmother's home in Last Stand, Texas, a far cry in the country from her city life as an organic grocery buyer in San Antonio. Her methodical daily routine suits her just fine, so she aims to freshen up the property, sell it, and take her funds back to the city. She's only got two weeks during her vacation to make this happen. Now is the time to cash in and get out.
The oldest Hutchinson son, who people around town know as "Hutch," is a third generation local who is poised to take over the family business with his brother, Cole. The barbeque brothers have very different ideas about the future of their restaurant, "The Hut." Just when he thought his biggest headache was his job, Hutch meets Valerie and both their worlds are upended. He's drawn to this fish out of water, but Valerie's time in Last Stand has an expiration date.
Their sweet and saucy styles don't mix, but can they both find the recipe to a happy future?
---
Praise
"This is truly a feel good story." ―Becky B., reviewer, NetGalley
"On the Market is the first book I have read from Audrey Wick and it will not be the last. I loved her writing style!" ―Rachel P., reviewer, NetGalley
"What a fun summer read! I really liked the whole Fixer Upper vibe from this book. Felt like I was watching Joanna Gaines at work . . ." ―Tamara C., reviewer, NetGalley
"This book is a Hallmark movie waiting to be adapted." NetGalley reviewer
---
About the Author
Audrey Wick writes for Tule Publishing. In addition to writing, she has been a full-time professor of English at Blinn College in Texas since 2003 with articles published in such magazines as Writer's Digest, Southern Writers, Texas Town & City, The Daily Yonder, and Motherly. Her work has also appeared in The Chicago Tribune, The Orlando Sentinel, The Houston Chronicle, The Fort Worth Star-Telegram, and The Huntsville Item newspapers and various academic journals such as South Texas Studies, Vending Machine Press, The Dead Mule School of Southern Literature, Burnt Pine , and The International Journal of the Book. Her narrative essay "The Siren Call of the Bingo Hall" is part of Course Reader: Rhetorical Modes and The Norton Mix, two college freshman writing textbooks available, respectively, by Cengage Learning and W. W. Norton.
Audrey believes the secret to happiness includes lifelong learning and good stories. But travel and coffee help. She has journeyed to over twenty countries–and sipped coffee at every one.
Finding True North, her debut novel was published by Tule Publishing on Apr 12, 2018. On Jul 26, 2018 was released Coming Home, the second book in the Texas Sisters series. The first book of the Texas BBQ Brothers series, On the Market, was released on Jul 11, 2019, by Tule Publishing, followed by Off The Market on Aug 13, 2019.
See Audrey's photos at her website, and connect with her on Twitter and Instagram @WickWrites.
---
Giveaway
https://www.instagram.com/p/B21lT7qg9FX/