Best June 2020 Book Releases
This post may contain affiliate links. If you make a purchase through these links, at no additional cost to you, I will earn a small commission.
What's the best part of the summer? Usually sun, beach, and lazy days with new books, but this year looks like the comfort of reading is the only thing pretty sure.
With many of my most anticipated books releasing this month and other new authors on my radar, June sounds such a great month to me. And no matter which is your favorite genre, June definitely has a fantastic long list of options.
So let's talk about the best June 2020 book releases
and be in touch to share your favorite reads with us!
Have a great month! 🙂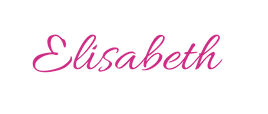 by Chanel Cleeton
From the author of the Reese's Book Club pick, Next Year in Havana and the instant New York Times bestseller When We Left Cuba, comes The Last Train To Key West.
Set against the backdrop of The Labor Day Hurricane of 1935—the first Category 5 hurricane to strike the U.S. in the 20th Century and the destroyer of Flagler's Railroad—three women unexpectedly cross paths as they try their best to survive not only the storm, but their personal hardships.
Everyone journeys to Key West searching for something. For the tourists traveling on Henry Flagler's legendary Overseas Railroad, Labor Day weekend is an opportunity to forget the economic depression gripping the nation. But one person's paradise can be another's prison, and Key West-native Helen Berner yearns to escape. Read more…
by Laila Ibrahim
From the bestselling author of Yellow Crocus and Mustard Seed comes the empowering novel of two generations of American women connected by the past and fighting for a brighter future.
It's 1894. Jordan Wallace and Sadie Wagoner appear to have little in common. Jordan, a middle-aged black teacher, lives in segregated Chicago. Two thousand miles away, Sadie, the white wife of an ambitious German businessman, lives in more tolerant Oakland, California. But years ago, their families intertwined on a plantation in Virginia. There, Jordan's and Sadie's mothers developed a bond stronger than blood, despite the fact that one was enslaved and the other was the privileged daughter of the plantation's owner.
With Jordan's mother on her deathbed, Sadie leaves her disapproving husband to make the arduous train journey with her mother to Chicago. But the reunion between two families is soon fraught with personal and political challenges.
As the harsh realities of racial divides and the injustices of the Gilded Age conspire to hold them back, the women find they need each other more than ever. Their courage, their loyalty, and the ties that bind their families will be tested. Amid the tumult of a quickly changing nation, their destiny depends on what they're willing to risk for liberation.

by Megan Miranda
From the New York Times bestselling author of The Last House Guest—a Reese Witherspoon Book Club pick—comes a riveting new novel of psychological suspense about a young woman plagued by night terrors after a childhood trauma who wakes one evening to find a corpse at her feet.
Everyone knows the story of "the girl from Widow Hills."
Arden Maynor was just a child when she was swept away while sleepwalking during a terrifying rainstorm and went missing for days. Strangers and friends, neighbors and rescue workers, set up search parties and held vigils, praying for her safe return. Against all odds, she was found, alive, clinging to a storm drain. The girl from Widow Hills was a living miracle. Arden's mother wrote a book. Fame followed. Fans and fan letters, creeps, and stalkers. And every year, the anniversary. It all became too much. As soon as she was old enough, Arden changed her name and disappeared from the public eye.
Now a young woman living hundreds of miles away, Arden goes by Olivia. She's managed to stay off the radar for the last few years. But with the twentieth anniversary of her rescue approaching, the media will inevitably renew its interest in Arden. Where is she now? Soon Olivia feels like she's being watched and begins sleepwalking again, like she did long ago, even waking outside her home. Until late one night she jolts awake in her yard. At her feet is the corpse of a man she knows—from her previous life, as Arden Maynor.

by Jill Shalvis
The Summer Deal is a friends-to-frenemies-to-lovers story… Add in a few secrets. Shake. Stir. Then read on a lazy summer day at the beach…
Brynn Turner desperately wishes she had it together, but her personal life is like a ping-pong match that's left her scared and hurt after so many attempts to get it right. In search of a place to lick her wounds and get a fresh start, she heads back home to Wildstone.
And then there's Kinsey Davis, who after battling serious health issues her entire twenty-nine years of life, is tired of hoping for . . . well, anything. She's fierce, tough, and she's keeping more than one bombshell of a secret from Brynn — her long time frenemy. Read more…
by Kimberly Belle
From Kimberly Belle, the bestselling author of The Marriage Lie and Three Days Missing, comes a riveting new domestic thriller about a newly married woman who questions her husband's involvement with a woman murdered in the lake behind their home, and how it connects the unsolved case that shook the town decades before.
When Charlotte married the wealthy widower Paul, it caused a ripple of gossip in their small lakeside town. They have a charmed life together, despite the cruel whispers about her humble past and his first marriage. But everything starts to unravel when she discovers a young woman's body floating in the exact same spot where Paul's first wife tragically drowned.
At first, it seems like a horrific coincidence, but the stranger in the lake is no stranger. Charlotte saw Paul talking to her the day before, even though Paul tells the police he's never met the woman. His lie exposes cracks in their fragile new marriage, cracks Charlotte is determined to keep from breaking them in two.
As Charlotte uncovers dark mysteries about the man she married, she doesn't know what to trust—her heart, which knows Paul to be a good man, or her growing suspicion that there's something he's hiding in the water.
by Elin Hilderbrand
Based on the classic film Same Time Next Year (which Mallory and Jake watch every summer), 28 Summers explores the agony and romance of a one-weekend-per-year affair and the dramatic ways this relationship complicates and enriches their lives, and the lives of the people they love.
by Sandie Jones
The Half Sister is the compelling, twisty novel from Sandie Jones, the author of The Other Woman, perfect for fans of Sally Hepworth's The Mother-in-Law and Michelle Frances' The Daughter.

THE TRUTH
Sisters Kate and Lauren meet for Sunday lunch every week without fail, especially after the loss of their father.
THE LIE
But a knock at the door is about to change everything. A young woman by the name of Jess holds a note with the results of a DNA test, claiming to be their half-sister.
THE UNTHINKABLE
As the fallout starts, it's clear that they are all hiding secrets, and perhaps this family isn't as perfect as it appears.
by Emily Griffin
In the irresistible new novel from the #1 New York Times bestselling author of All We Ever Wanted and Something Borrowed, a young woman falls hard for an impossibly perfect man before he disappears without a trace. . . .
It's 2 A.M. on a Saturday night in the spring of 2001, and twenty-eight-year-old Cecily Gardner sits alone in a dive bar in New York's East Village, questioning her life. Feeling lonesome and homesick for the Midwest, she wonders if she'll ever make it as a reporter in the big city—and whether she made a terrible mistake in breaking up with her longtime boyfriend, Matthew.
As Cecily reaches for the phone to call him, she hears a guy on the barstool next to her say, "Don't do it—you'll regret it." Something tells her to listen, and over the next several hours—and shots of tequila—the two forge an unlikely connection. That should be it, they both decide the next morning, as Cecily reminds herself of the perils of a rebound relationship. Moreover, their timing couldn't be worse—Grant is preparing to quit his job and move overseas. Yet despite all their obstacles, they can't seem to say goodbye, and for the first time in her carefully constructed life, Cecily follows her heart instead of her head. Read more…
by Abby Waxman
Squashed among a bus full of strangers, mother-daughter duo Jessica and Emily Burnstein watch their carefully mapped-out college tour devolve into a series of off-roading misadventures, from the USA Today bestselling author of The Bookish Life of Nina Hill.

Jessica and Emily Burnstein have very different ideas of how this college tour should go.
For Emily, it's a preview of freedom, exploring the possibility of her new and more exciting future. Not that she's sure she even wants to go to college, but let's ignore that for now. And maybe the other kids on the tour will like her more than the ones at school. . . . They have to, right?
For Jessica, it's a chance to bond with the daughter she seems to have lost. They used to be so close, but then Goldfish crackers and Play-Doh were no longer enough of a draw. She isn't even sure if Emily likes her anymore. To be honest, Jessica isn't sure she likes herself. Read more…
by Sara Desai
A high stakes wager pits an aspiring entrepreneur against a ruthless CEO in this sexy romantic comedy.

After her life falls apart, recruitment consultant Layla Patel returns home to her family in San Francisco. But in the eyes of her father, who runs a Michelin starred restaurant, she can do no wrong. He would do anything to see her smile again. With the best intentions in mind, he offers her the office upstairs to start her new business and creates a profile on an online dating site to find her a man. She doesn't know he's arranged a series of blind dates until the first one comes knocking on her door…
As CEO of a corporate downsizing company Sam Mehta is more used to conflict than calm. In search of a quiet new office, he finds the perfect space above a cozy Indian restaurant that smells like home. But when communication goes awry, he's forced to share his space with the owner's beautiful yet infuriating daughter Layla, her crazy family, and a parade of hopeful suitors, all of whom threaten to disrupt his carefully ordered life. Read more…

by Susie Orman Schnall
Set during the iconic 1939 New York World's Fair, two intrepid young women–an aspiring journalist and a down-on-her-luck actress–form an unlikely friendship as they navigate a world of endless possibility, stand down adversity, and find out what they are truly made of during the glorious summer of spectacle and opportunity…
Vivi Holden is closer than she's ever been to living her dream as a lead actress in sun-dappled L.A., but an unfair turn of events sends her back to New York, a place she worked so hard to escape from. She has one last chance to get back to Hollywood–by performing well as the star of the heralded Aquacade synchronized swimming spectacular at the World's Fair. Everything seems to be working against her, but her summer in New York will lead to her biggest opportunity to find her own way, on her own terms…
Maxine Roth wants nothing more than to be a serious journalist at the iconic New York Times, but her professor has other plans. Instead, she's landed a post at the pop-up publication dedicated to covering the World's Fair–and even then, her big ideas are continually overlooked by her male counterparts. Read more…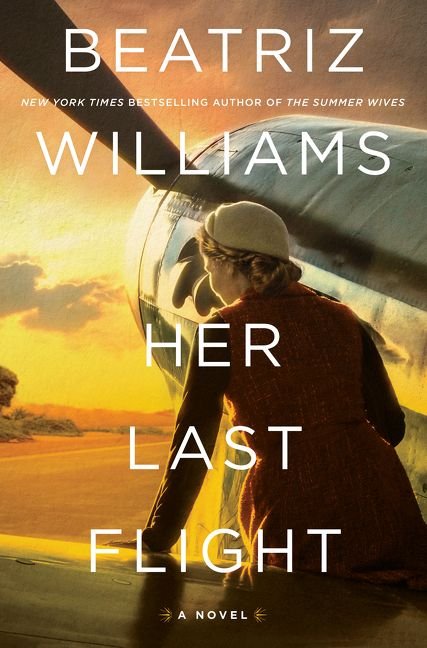 by Beatriz Williams
The beloved author returns with a remarkable novel of both raw suspense and lyric beauty― the story of a lost pilot and a wartime photographer that will leave its mark on your soul.
In 1947, photographer and war correspondent Janey Everett arrives at a remote surfing village on the Hawaiian island of Kauai to research a planned biography of forgotten aviation pioneer Sam Mallory, who joined the loyalist forces in the Spanish Civil War and never returned. Obsessed with Sam's fate, Janey has tracked down Irene Lindquist, the owner of a local island-hopping airline, whom she believes might actually be the legendary Irene Foster, Mallory's onetime student and flying partner. Foster's disappearance during a round-the-world flight in 1937 remains one of the world's greatest unsolved mysteries.
At first, the flinty Mrs. Lindquist denies any connection to Foster. But Janey informs her that the wreck of Sam Mallory's airplane has recently been discovered in a Spanish desert, and piece by piece, the details of Foster's extraordinary life emerge: from the beginnings of her flying career in Southern California, to her complicated, passionate relationship with Mallory, to the collapse of her marriage to her aggressive career manager, the publishing scion George Morrow.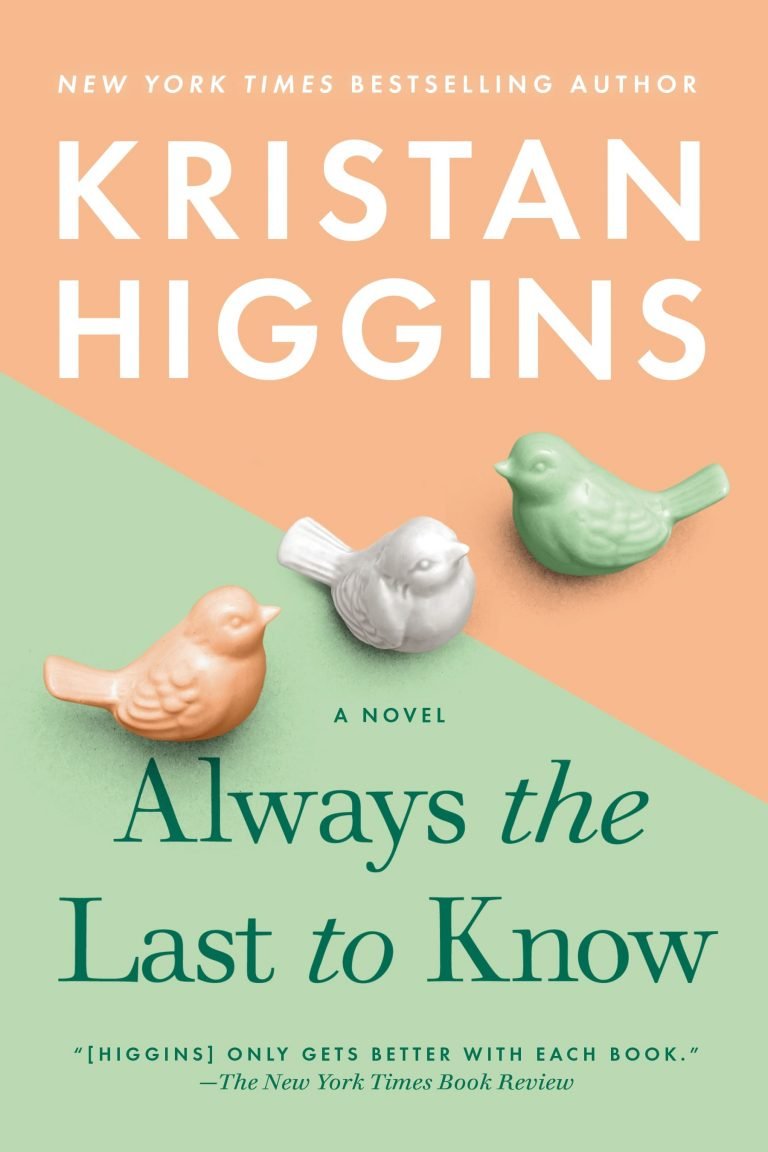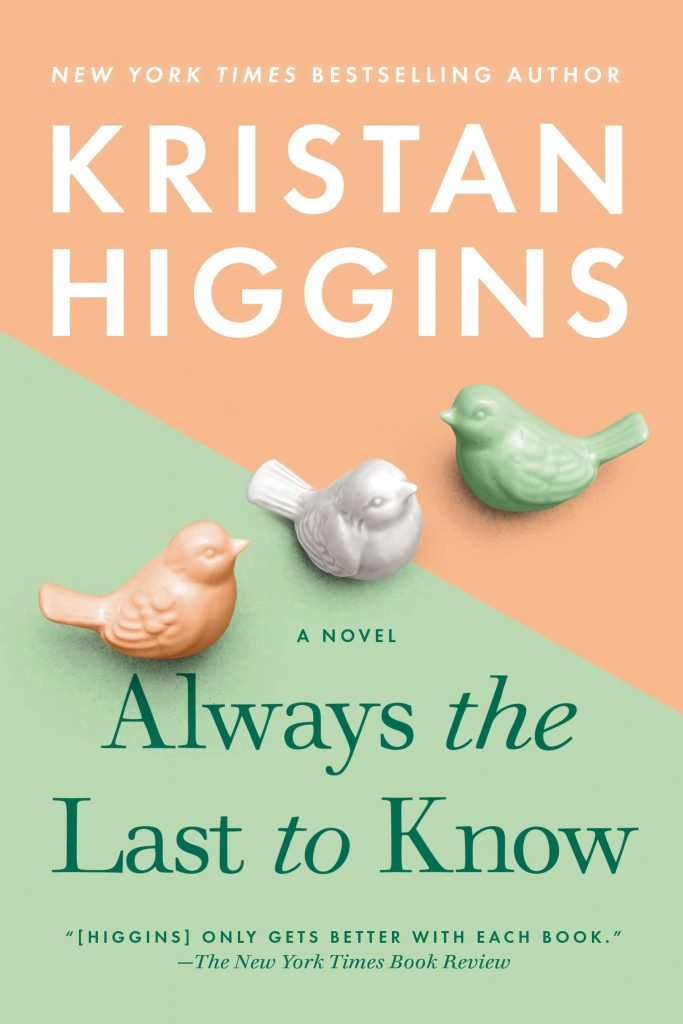 by Kristan Higgins
From New York Times bestselling author Kristan Higgins, a new novel examining a family at the breaking point in all its messy, difficult, wonderful complexity.
The Frosts are a typical American family. Barb and John, married almost fifty years, are testy and bored with each other…who could blame them after all this time? At least they have their daughters– Barb's favorite, the perfect, brilliant Juliet; and John's darling, the free-spirited Sadie. The girls themselves couldn't be more different, but at least they got along, more or less. It was fine. It was enough.
Until the day John had a stroke, and their house of cards came tumbling down. Read more…
by Meg Mitchell Moore
From the author of The Islanders comes a warm, witty and suspenseful novel filled with small-town secrets, summer romance, big time lies and spiked seltzer, in the vein of Liane Moriarty.
Truth: Sherri Griffin and her daughter, Katie, have recently moved to the idyllic beach town of Newburyport, Massachusetts. Rebecca Coleman, widely acknowledged former leader of the Newburyport Mom Squad (having taken a step back since her husband's shocking and tragic death eighteen months ago), has made a surprising effort to include these newcomers in typically closed-group activities. Rebecca's teenage daughter Alexa has even been spotted babysitting Katie.
Truth: Alexa has time on her hands because of a recent falling-out with her longtime best friends for reasons no one knows—but everyone suspects have to do with Alexa's highly popular and increasingly successful YouTube channel. Katie Griffin, who at age 11 probably doesn't need a babysitter anymore, can't be left alone because she has terrifying nightmares that don't seem to jibe with the vague story Sherri has floated about the "bad divorce" she left behind in Ohio. Read more…