This post may contain affiliate links. If you make a purchase through these links, at no additional cost to you, I will earn a small commission.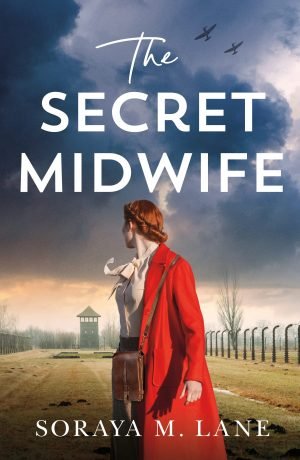 Publication date: August 1, 2023
Publisher: Lake Union Publishing
Paperback: 331 Pages
Publisher Description
From the bestselling author of The London Girls comes a story of courage and resilience amidst the horror of Auschwitz―and one woman's last chance to share it with the world.
London, 1995: When on the fiftieth anniversary of the liberation of Auschwitz a news broadcast runs an appeal for information on the identity of a midwife who saved hundreds of lives, Emilia knows it is time to finally tell her story.
Occupied Poland, 1942: Despite the constant presence of German soldiers in her village, Emilia is allowed certain freedoms as a midwife―the most precious is innocently cycling past Nazi checkpoints to the homes of expectant mothers on her rounds. But Emilia has a secret: for years she's also been visiting the hidden Jewish mothers and working for the resistance…until she is betrayed.
Suddenly a prisoner of Auschwitz, Emilia is surrounded by horror and despair. When she is put to work as a midwife in the camp, she realises that she has a chance to bring a small glimmer of hope to the pregnant women of Auschwitz. Alongside a brave imprisoned doctor, Aleksy, and an innocent outcast, Lena, she comes up with a dangerous plan. A plan that if discovered could mean a fate far worse than death, but if they act undetected, they could save countless lives…
The Secret Midwife is a work of fiction, but inspired by many real-life accounts of the Polish resistance, the brave doctors, nurses and midwives imprisoned in the camps and those who fought to save as many lives as possible in Poland during World War II.
About the author
Soraya M. Lane is the author of historical and contemporary women's fiction, and her novel Wives of War was an Amazon Charts bestseller.
Read more about Soraya ON HER WEBSITE
ALSO IN
HISTORICAL FICTION