This post may contain affiliate links. If you make a purchase through these links, at no additional cost to you, I will earn a small commission.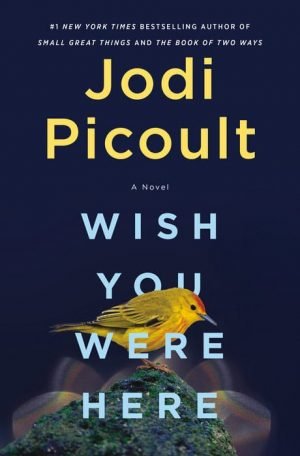 Publication date: November 30, 2021
Publisher: Ballantine Books
Hardcover: 336 Pages
Publisher Description
#1 NEW YORK TIMES BESTSELLER • From the author of Small Great Things and The Book of Two Ways comes "a powerfully evocative story of resilience and the triumph of the human spirit" (Taylor Jenkins Reid, author of Malibu Rising)

Rights sold to Netflix for adaptation as a feature film

Diana O'Toole is perfectly on track. She will be married by thirty, done having kids by thirty-five, and move out to the New York City suburbs, all while climbing the professional ladder in the cutthroat art auction world. She's an associate specialist at Sotheby's now, but her boss has hinted at a promotion if she can close a deal with a high-profile client. She's not engaged just yet, but she knows her boyfriend, Finn, a surgical resident, is about to propose on their romantic getaway to the Galápagos—days before her thirtieth birthday. Right on time.

But then a virus that felt worlds away has appeared in the city, and on the eve of their departure, Finn breaks the news: It's all hands on deck at the hospital. He has to stay behind. You should still go, he assures her, since it would be a shame for all of their nonrefundable trip to go to waste. And so, reluctantly, she goes.

Almost immediately, Diana's dream vacation goes awry. Her luggage is lost, the Wi-Fi is nearly nonexistent, and the hotel they'd booked is shut down due to the pandemic. In fact, the whole island is now under quarantine, and she is stranded until the borders reopen. Completely isolated, she must venture beyond her comfort zone. Slowly, she carves out a connection with a local family when a teenager with a secret opens up to Diana, despite her father's suspicion of outsiders.

In the Galápagos Islands, where Darwin's theory of evolution by natural selection was formed, Diana finds herself examining her relationships, her choices, and herself—and wondering if when she goes home, she too will have evolved into someone completely different.
Review
Wish You Were Here is about Diana, who is ideally on track with her plans. She also knows that her boyfriend, Finn, is about to propose on their romantic trip to Galapagos, but then he backs out at the last minute. Although she's disappointed to be alone on her trip, Diana decides to travel anyway. When she arrives, the island is under lockdown, and hotels are shut down due to the pandemic, but a kind lady, "Abuela" lets Diana stay in the apartment attached to her house. As she begins to meet the locals and becomes entangled in a family drama, Diana starts to question her pre-planned life and her future once the pandemic is over.
Then, with an extraordinary twist, Jodi Picoult changed the course of the entire story, and I was absolutely blown away. Wish You Were Here is a fantastic book that I would definitely recommend. With an actual topic, relatable characters, and a unique writing style, this novel is a must-read for Jodi Picoult fans and a great place to start if you're curious about her.
I received a complimentary copy of this book from Random House – Ballantine through NetGalley. The opinions in this review are entirely my own.

About the author
Jodi Picoult is the author of twenty-seven novels, with forty million copies sold worldwide. Her last twelve books have debuted at #1 on the New York Times best­seller list, including her most recent, The Book of Two Ways. Five novels have been made into movies and Between the Lines (co-written with daughter Samantha van Leer) has been adapted as a musical. She lives in New Hampshire with her husband.
Read more about Jodi ON HER WEBSITE
Praise

"Wish You Were Here is a transporting and transcendent novel about seeking out glimmers of light in the darkness, and following them wherever they lead. Jodi Picoult is that rare, one-in-a-million writer whose books both squeeze your heart and expand your mind. Her latest is wise, surprising, and utterly extraordinary."⁠—Emily Henry, #1 New York Times bestselling author of People We Meet on Vacation and Beach Read
Read more

"In Wish You Were Here, Jodi Picoult does something brilliant, cracking open something extraordinary. I am just overwhelmed by this book. I actually finished it at three in the morning and started reading it again."⁠—Caroline Leavitt, New York Times bestselling author of With or Without You

"Jodi Picoult once again proves she is the master of wading through the darkness to find the light."—Taylor Jenkins Reid, author of Malibu Rising
ALSO IN
CONTEMPORARY FICTION