This post may contain affiliate links. If you make a purchase through these links, at no additional cost to you, I will earn a small commission.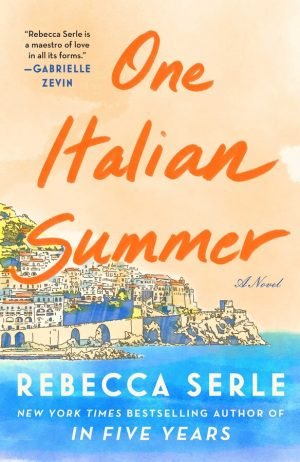 Publication date: March 1, 2022
Publisher: Atria Books
Hardcover: 272 Pages
Publisher Description
The New York Times bestselling author of the "heartwarming, heartbreaking, and hard to put down" (Laurie Frankel, New York Times bestselling author) modern classic In Five Years returns with a moving and unforgettable exploration of the powerful bond between mother and daughter set on the breathtaking Amalfi Coast.

When Katy's mother dies, she is left reeling. Carol wasn't just Katy's mom, but her best friend and first phone call. She had all the answers and now, when Katy needs her the most, she is gone. To make matters worse, their planned mother-daughter trip of a lifetime looms: to Positano, the magical town where Carol spent the summer right before she met Katy's father. Katy has been waiting years for Carol to take her, and now she is faced with embarking on the adventure alone.

But as soon as she steps foot on the Amalfi Coast, Katy begins to feel her mother's spirit. Buoyed by the stunning waters, beautiful cliffsides, delightful residents, and, of course, delectable food, Katy feels herself coming back to life.

And then Carol appears—in the flesh, healthy, sun-tanned, and thirty years old. Katy doesn't understand what is happening, or how—all she can focus on is that she has somehow, impossibly, gotten her mother back. Over the course of one Italian summer, Katy gets to know Carol, not as her mother, but as the young woman before her. She is not exactly who Katy imagined she might be, however, and soon Katy must reconcile the mother who knew everything with the young woman who does not yet have a clue.
About the author
Rebecca Serle is the New York Times bestselling author of In Five Years, The Dinner List, and the young adult novels The Edge of Falling and When You Were Mine. Serle also developed the hit TV adaptation Famous in Love, based on her YA series of the same name. She is a graduate of USC and The New School and lives in Los Angeles.
Read more about Rebecca ON HER WEBSITE
Praise

"Poignant and ultimately uplifting. The mouthwatering descriptions of Katy's food and the lush Italian coast bring a strong, atmospheric sense of place. Recommend to fans of Helen Fisher's Faye, Faraway (2021) and those who enjoy being transported to other countries through fiction."—Booklist

"A touching story…the mother-daughter bond is made palpable through Katy's grief and desire for connection." —Publishers Weekly


Read more

"Rebecca Serle is a maestro of love in all its forms."— Gabrielle Zevin, New York Times bestselling author of The Storied Life of A.J. Fikry

"An unconventional love story that embraces people's flaws and selfishness as part of what makes them human."—Kirkus



ALSO IN
CONTEMPORARY FICTION