Beautiful World Where Are You
This post may contain affiliate links. If you make a purchase through these links, at no additional cost to you, I will earn a small commission.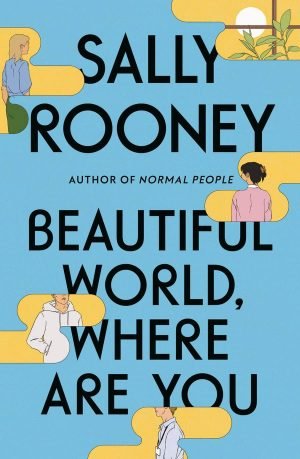 Publication date: September 7, 2021
Publisher: Farrar, Straus and Giroux
Hardcover: 368 Pages
Publisher Description
Beautiful World, Where Are You is a new novel by Sally Rooney, the bestselling author of Normal People and Conversations with Friends.

Alice, a novelist, meets Felix, who works in a warehouse, and asks him if he'd like to travel to Rome with her. In Dublin, her best friend, Eileen, is getting over a break-up, and slips back into flirting with Simon, a man she has known since childhood.

Alice, Felix, Eileen, and Simon are still young―but life is catching up with them. They desire each other, they delude each other, they get together, they break apart. They have sex, they worry about sex, they worry about their friendships and the world they live in. Are they standing in the last lighted room before the darkness, bearing witness to something? Will they find a way to believe in a beautiful world?
About the author
Sally Rooney is the author of the novels Conversations with Friends, Normal People and Beautiful World, Where Are You. She was the editor of the Stinging Fly in 2018 and a Cullman Center Fellow at the New York Public Library from 2019–20. She was nominated for an Emmy for her work on the television adaptation of Normal People, which was broadcast on CBC Gem in 2020.
Praise

"Even more moving than Normal People or Conversations with Friends . . . Beautiful World, Where Are You is still very dialectical and Marxist and interested in political debates. Yet it is also a love letter to the novel as a form of art―and, by extension, to the ways in which human beings relate to one another . . . Beautiful World, Where Are You is a love letter to all of us, to all the ways we love."―Constance Grady, Vox
Read more

"[Rooney's] writing about sex is taut and direct. It's a narrative style I associate with the films of Andrew Haigh and Joanna Hogg, two great visual poets of social anxiety and reticence. Rooney's dialogue is frequently perfect . . . Beautiful World, Where Are You is Rooney's best novel yet. Funny and smart, full of sex and love and people doing their best to connect."―Brandon Taylor, The New York Times Book Review

"A tour de force. The dialogue never falters, and the prose burns up the page."―Anne Enright, The Guardian

"The book moved me to tears more than once . . . Rooney's best novel."―James Marriott, The Times (UK)

"It's a testament to Rooney's curious, cerebral gifts as a writer that she not only draws her readers into tolerating long stretches of such ruminations but makes them so entertaining. We feel we're in good company with our own end-time anxieties . . . In this ambitious novel of sentiment and ideas, which is so up to the minute in its global concerns, Rooney ironically reaches back to one of the oldest forms of the novel, the epistolary or letter form, to tell her story . . . Rooney's novel, like all great fiction, is open-ended."―Maureen Corrigan, NPR's Fresh Air
ALSO IN
CONTEMPORARY FICTION