This post may contain affiliate links. If you make a purchase through these links, at no additional cost to you, I will earn a small commission.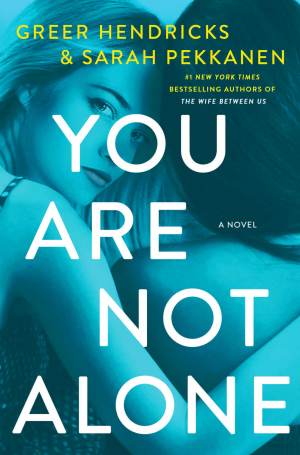 by Greer Hendricks & Sarah Pekkanen
Publication Date: March 3, 2020
Publisher: St. Martin's Press
Paperback: 344 Pages
Publisher Description
The electrifying #1 New York Times bestselling authors of THE WIFE BETWEEN US and AN ANONYMOUS GIRL return with a brand new novel of psychological suspense, YOU ARE NOT ALONE.
Shay Miller wants to find love, but it eludes her. She wants to be fulfilled, but her job is a dead end. She wants to belong, but her life is increasingly lonely.
Until Shay meets the Moore sisters. Cassandra and Jane live a life of glamorous perfection, and always get what they desire. When they invite Shay into their circle, everything seems to get better.
Shay would die for them to like her.
She may have to.

Review
Shay witnesses a suicide via subway train. It absolutely sends her into a downward spiral. Then she meets the Moore sisters. Their friendship changes her life. She has a makeover, finds a new apartment and a new job. But, at what cost?
Shay is a little bit in the weird side. She keeps a journal, not of thoughts or experiences, but data. She is a bit analytical. So when the gorgeous Moore sisters show up in her life, she is in awe of their beauty, clothes and their life. It does not take much for these ladies to influence her and to move her like a pawn to do what they want.
You Are Not Alone just keeps winding tighter and tighter, then when it starts to unravel….WOW! I enjoy a smart read and this is definitely it! You cannot skim a single word of it or you will miss something important. I did not think it was possible to top An Anonymous Girl, but these ladies have done it. They are the top of their craft! I just love the intricate movements of this story. It is intense and masterfully done!
Need a good psycho-thriller…THIS IS IT!

About the author
Greer Hendricks and Sarah Pekkanen's The Wife Between Us has been optioned for film by Amblin Entertainment, with Greer and her co-author, Sarah Pekkanen, hired to write the screenplay. An Anonymous Girl and You Are Not Alone have been optioned for television, with Greer and Sarah tapped to executive produce. Prior to becoming a novelist, Greer served as Vice President and Senior Editor at Simon & Schuster.
Read more about Greer ON HER WEBSITE
Read more about Sarah ON HER WEBSITE
Praise
"Dynamic duo Hendricks and Pekkanen bat another one out of the park with this unputdownable, highly recommended thrill ride." ― Library Journal (starred review)

"Slickly twisty [with] gasp-worthy final twists…major league suspense." ―Publishers Weekly (starred review)
Read more

"Masterfully escalates the suspense…keep[s] the reader guessing until the end. A great follow-up." ―Booklist(starred review)

"Psychological suspense is a genre that needs to be handled with kid gloves…Greer Hendricks and Sarah Pekkanen seem to have mastered the formula…a creepy-crawly tale." ―New York Times Book Review
ALSO IN
MYSTERY & THRILLERS