This post may contain affiliate links. If you make a purchase through these links, at no additional cost to you, I will earn a small commission.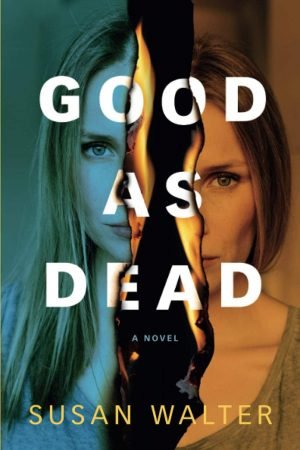 Publication Date: October 1, 2021
Publisher: Lake Union Publishing
Paperback: 271 Pages
Publisher Description
It all starts with a promise from a stranger: We'll take care of everything.
Holly Kendrick's husband is dead. Holly saw it all. In one violent moment, a hit-and-run accident turns Holly's life upside down. Then a fixer for the high-powered guilty party approaches Holly with an offer she is in no position to refuse. Holly and her daughter, Savannah, will want for nothing, beginning with a luxury dream house―all for the price of their silence. But when their sudden appearance in privileged Calabasas, California, piques the curiosity of neighbors, the price becomes greater than they imagined. Because Holly and Savannah aren't the only ones in the neighborhood with something to hide.
Told from alternating points of view, Good as Dead draws together an unlikely group of people bound to one another by a crime, a cover-up, and compounding deceptions. As carefully constructed lives begin to crumble, how far will everyone be willing to go to bury the truth and protect the people they love?
About the author
Susan Walter was born in Cambridge, Massachusetts. She had hoped to be a newscaster, but the local TV station had different ideas and hired her to write and produce promos instead. Seeking sunshine and a change of scenery, she moved to Los Angeles to work in film and television production. Upon realizing writers were having all the fun, Susan transitioned to screenwriting, then directing. She made her directorial debut with the film All I Wish starring Sharon Stone, which she also wrote.
Praise
"Susan Walter's Good as Dead had me holding my breath through every thrilling twist and turn until the downright explosive ending. Fearlessly tackling themes of love, wealth, personal responsibility, and life and death, it was pure pleasure to read, and a brilliant debut." ―Alethea Black, author of You've Been So Lucky Already and I Knew You'd Be Lovely
Read more

Susan Walter's debut novel is so full of surprises it should come with a warning label. From the daringly original premise to the shocking climax, you'll never see the plot twists coming until you turn the page. I cannot wait for her next book!" ―W. Bruce Cameron, #1 New York Times bestselling author of A Dog's Purpose and A Dog's Courage

"Susan Walter delivers a thrilling puzzle of a story that she feeds you piece by twisty piece. A wonderfully unique premise, a deep cast of flawed but relatable characters, and a mind-blowing ending, I could not put down this book. Five stars!" ―Sawyer Bennett, New York Times bestselling author

"Susan Walter's debut novel is a masterful, superbly constructed thriller with high tension and clever twists, but also vital heart and soul. A wildly absorbing and propulsive look at what happens when good people do bad things and the unimaginable ripple effects of one tragic event. It's a terrific read." ―Gary Goldstein, Los Angeles Times film critic and author of The Last Birthday Party

"A mystery set in Los Angeles written by a filmmaker? Yes, please! Susan Walter's Good as Dead is a fun, fast ride through Hollywood's suburbia. As they say, sometimes the cover-up is worse than the crime. Couldn't put it down!" ―Dr. Judy Melinek, New York Times bestselling co-author of Working Stiff and the Jessie Teska mystery series
ALSO IN
MYSTERY & THRILLERS