Sunday Brunch with...Camille Pagán
Happy Sunday!
Today at Comet Readings, I'm so glad to have as my guest, a brilliant author. Her new novel, Woman Last Seen in Her Thirties, will be released on February 27, 2018.
I'm very excited to introduce…
Camille Pagán
Describe yourself with three adjectives.
Camille: Committed, loving, generous.
Choose three adjectives for your last novel, Woman Last Seen In Her Thirties.
Camille: Witty, engaging, revealing.
What inspired you to write this novel?
Camille: I was standing in Whole Foods when a college-aged man bumped into me. He was busy talking to the friend he was shopping with, and glanced up at me with a look that said he had just looked right through me. Then he continued on his way. Maybe he was simply rude, but it made me think about how women, in particular, often seem invisible to those around them as they get older. (I believe this is changing and will continue to change, but I still see it more than I'd like.) In that moment, the premise of Woman Last Seen in Her Thirties was born. The following day, I sat down and wrote the first chapter of Woman and knew it would be my next novel.
What are your ambitions for your writing career?
Camille: I have one primary ambition: to write a lot of novels that are emotionally meaningful to my readers.
What inspires you to write?
Camille: I write most days and am almost always working on a book. I'm also a journalist and am a naturally curious person, so I tend to find inspiration from all sorts of places. For example, years ago I wrote a journalism story about brain health. That story gave me the idea for my first novel, The Art of Forgetting, which is about a woman whose best friend has suffered a personality-altering brain injury.
What other authors are you friends with, and how do they help you become a better writer?
Camille: Many of my dear friends are writers, which is great; we all love talking about the craft and the business of writing. I belong to several writing organizations, including The American Society of Journalists and Authors and the Women's Fiction Writers Association. I'm also a part of a wonderful organization of women authors called the Tall Poppy Writers, and we support each other personally and professionally. Writing is a solo endeavor, but my writing communities keep me from being lonely.
How did publishing your first book change your process of writing?
Camille: There's inevitably more pressure after you publish your first book—probably more internal than external pressure, because it's such a major effort that you can't help but wonder how you could possibly pull it off again. But I did (and still do) find writing to be so rewarding that not continuing wasn't really an option. I love creating stories and characters; it's my way of examining the world.
Do you read your book reviews? How do you deal with bad or good ones?
Camille: I read all of my trade reviews, because it's part of the job. I do read reviews on Amazon, but I tend to steer clear of Goodreads because I have read too many reviews that are presumably about a book but are really unkind comments about the author as a person. Reading something like that isn't conducive to my writing life, so I skip it.
What is the best compliment you've ever received?
Camille: When it comes to writing, it's always the same: hearing from any reader who says my novel moved them or made their life better.
What are you working on now?
Camille: I just finished a new draft I'm really excited about. It's the story of a woman who learns her best friend's marriage was built on lies—which inspires her to use radical honesty to try to save her own relationship.
What are the things you love most in your daily life?
Camille: My children, my husband, espresso, writing for a few hours in the morning, walking around my neighborhood with my dog, talking to my sisters and my friends, ending the day with a good place of wine.
What does literary success look like to you?
Camille: See my answer on ambition.
Could you share a happy photo and tell us more about that moment?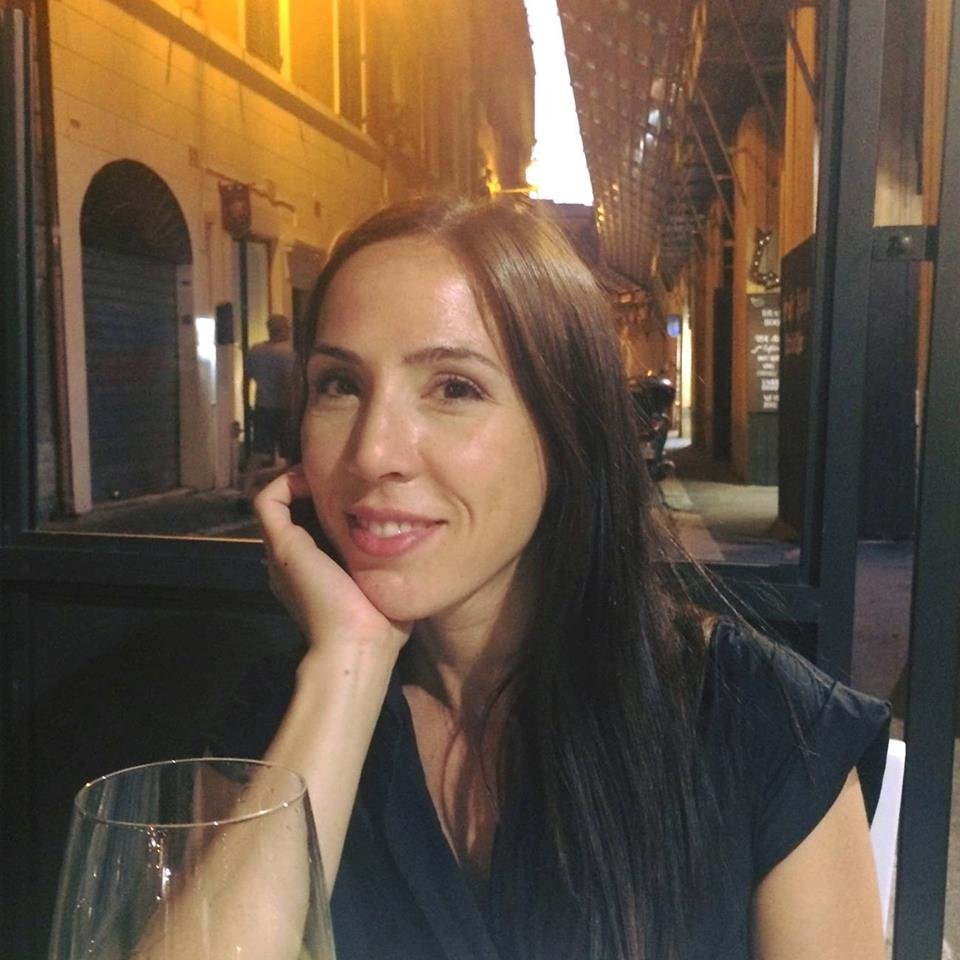 Camille: This is a photo from Rome

(since part of Woman takes place there).
Thank you, Camille, for being our guest today and for sharing a paperback copy of Woman Last Seen in Her Thirties with our readers (U.S. only)! Good luck! 😉
---
About the author
Camille Pagán is the author of Woman Last Seen in Her Thirties, Forever is the Worst Long Time, The Art of Forgetting, and the #1 Kindle bestseller Life and Other Near-Death Experiences, which was recently optioned for film. Her novels have been translated into twelve languages.
In another life, she was a health editor at Real Simple and Fitness magazines; these days, she writes for publications like Fast Company, Forbes, O: The Oprah Magazine, Parade, Time, and others.
When she's not at her computer, you'll find her reading, running after her two kids, or planning her next trip (most likely to Puerto Rico, where her husband was born and raised).
For more about
Camille Pagán
, check her website HERE!
SIGN UP FOR OUR BEST BOOK RECOMMENDATIONS!