This post may contain affiliate links. If you make a purchase through these links, at no additional cost to you, I will earn a small commission.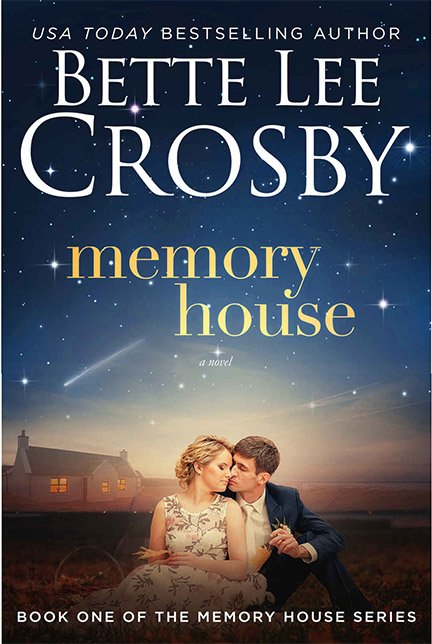 by Bette Lee Crosby
⭐⭐⭐⭐⭐
Publication date: April 14, 2015
Paperback: 196 pages
Publisher: Bent Pine Publishing
---
Publisher Description
Annie Cross is running from a broken love affair and the only thing she wants is to forget; but once she meets Ophelia Browne she just might discover there are far greater joys in remembering.
Ophelia remembers everything. She remembers things from her own life and from the lives of those who came before her. She has only to touch her hand to an object and she can feel the special memories clinging to it. But now she is nearing ninety and needs to find a caretaker for these memories. If death comes before she finds someone, the memories will be lost forever. Ophelia prays this won't happen.
When Annie shows up on the doorstep of the Memory House Bed and Breakfast Ophelia knows she is the one. Seldom has she come across such deep violet eyes, and never with the flecks of green that once could be seen in her own reflection.
The two women forge a friendship and forgotten memories begin to unfold, but before long a thread of violence starts to unravel and Ophelia fears things may have gone too far.
* * *
Memory House has captivated me from the first pages. With her delightful prose, Bette Lee Crosby has created a magic and fascinating storyline with wonderful characters and a very special and gifted bond, which left the reader fascinated and hopeful to discover more about Ophelia and Annie.
Memory House follows Annie, who "accidentally" arrives at Memory House, where immediately connects with Ophelia. Ophelia is a charismatic woman, and she sees in Annie's violet eyes the young version of herself. Sharing Ophelia's treasures, Annie will discover a new way of observing things and their hidden memories.
I should have realized there is no number for happiness. You can't hold it in your hand, touch it or measure it; you just know it's there. And having it makes a gigantic difference in your life. It's a shame it took me so long to figure that out.
I was impressed by the depth of Ophelia's words describing her love for Edward, and the delicacy while describing her memories to Annie. The atmosphere is so familiar and comfortable, and you will think about this book also after putting it down.
Thankfully, this book has a sequel that allows us to enjoy a little bit more Annie and Ophelia's company.
Thank you, Bette, for this heartwarming novel!
This book deserves five out of five stars.