This post may contain affiliate links. If you make a purchase through these links, at no additional cost to you, I will earn a small commission.
---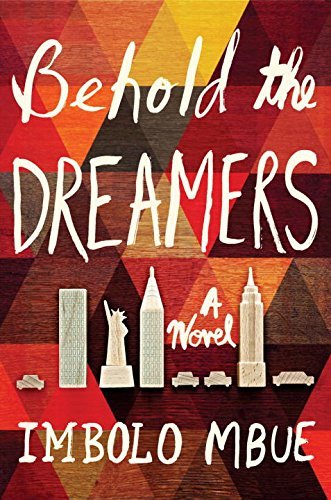 A Novel
by Imbolo Mbue
On Sale: August 23, 2016
Publisher: Random House
Print Lenght: 401 Pages
---
Behold The Dreamers is a compulsively readable debut novel about marriage, immigration, class, race, and the trapdoors in the American Dream—the unforgettable story of a young Cameroonian couple making a new life in New York just as the Great Recession upends the economy.

Jende Jonga, a Cameroonian immigrant living in Harlem, has come to the United States to provide a better life for himself, his wife, Neni, and their six-year-old son. In the fall of 2007, Jende can hardly believe his luck when he lands a job as a chauffeur for Clark Edwards, a senior executive at Lehman Brothers. Clark demands punctuality, discretion, and loyalty—and Jende is eager to please. Clark's wife, Cindy, even offers Neni temporary work at the Edwardses' summer home in the Hamptons. With these opportunities, Jende and Neni can at last gain a foothold in America and imagine a brighter future.
However, the world of great power and privilege conceals troubling secrets, and soon Jende and Neni notice cracks in their employers' façades.
When the financial world is rocked by the collapse of Lehman Brothers, the Jongas are desperate to keep Jende's job—even as their marriage threatens to fall apart. As all four lives are dramatically upended, Jende and Neni are forced to make an impossible choice.
---
About the author
Imbolo Mbue is the author of the New York Times bestseller Behold the Dreamers, which won the PEN/Faulkner Award for Fiction and the Blue Metropolis Words to Change Prize and was an Oprah's Book Club selection. Named a notable book of the year by The New York Times andThe Washington Post and a best book of the year by close to a dozen publications, the novel has been translated into eleven languages, adapted into an opera and a stage play, and optioned for a movie.
A native of Limbe, Cameroon, and a graduate of Rutgers and Columbia Universities, Mbue lives in New York City.
For more about Imbolo, check her website HERE!
Praise
"Behold the Dreamers' heart . . . belongs to the struggles and small triumphs of the Jongas, which Mbue traces in clean, quick-moving paragraphs."—Entertainment Weekly
Read more

"A debut novel by a young woman from Cameroon that illuminates the immigrant experience in America with the tenderhearted wisdom so lacking in our political discourse . . . Mbue is a bright and captivating storyteller."—The Washington Post

"A capacious, big-hearted novel."—The New York Times Book Review

"Mbue's writing is warm and captivating."—People (book of the week)

"[Mbue's] book isn't the first work of fiction to grapple with the global financial crisis of 2007–2008, but it's surely one of the best. . . . It's a novel that depicts a country both blessed and doomed, on top of the world, but always at risk of losing its balance. It is, in other words, quintessentially American."—NPR

"This story is one that needs to be told."—Bust

"Behold the Dreamers challenges us all to consider what it takes to make us genuinely content, and how long is too long to live with our dreams deferred."—O: The Oprah Magazine

"[A] beautiful, empathetic novel."—The Boston Globe

"A witty, compassionate, swiftly paced novel that takes on race, immigration, family and the dangers of capitalist excess."—St. Louis Post-Dispatch

"Mbue [is] a deft, often lyrical observer. . . . [Her] meticulous storytelling announces a writer in command of her gifts."—Minneapolis Star Tribune

"It's rare that a book is so fascinating, so emotionally compelling, and so beautiful that I literally can't put it down. I picked Behold the Dreamers up one evening before bed. I turned the last page at dawn. It ruined the next day for me—I wasn't much good for anything but a nap—but it was worth every lost hour."—Ayelet Waldman, New York Times bestselling author of Love and Treasure

"A beautiful book about one African couple starting a new life in a new land, Behold the Dreamers will teach you as much about the promise and pitfalls of life in the United States as about the immigrants who come here in search of the so-called American dream."—Sonia Nazario, author of Enrique's Journey and winner of the Pulitzer Prize

"Among the spate of novels forged in the crucible of the previous decade, Mbue's impressive debut deserves a singular place. . . . Realistic, tragic, and still remarkably kind to all its characters, this is a special book."—Kirkus Reviews (starred review)

"A fast-paced, engaging read with an interesting cross-cultural background."—Library Journal

"The Jongas are . . . vivid, and the book's unexpected ending—and its sharp-eyed focus on issues of immigration, race, and class—speak to a sad truth in today's cutthroat world: the American dream isn't what it seems."—Publishers Weekly